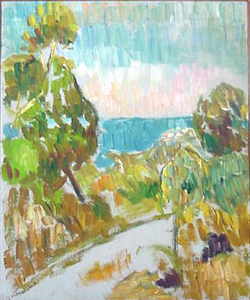 Grace Cossington Smith
Blue Day on the Coast - $25 000
The Cana Community run houses
for the homeless at many centres including:
76 Redfern Street, Redfern.
The charity is directed by Fr. Stoney.
Thanks to the generosity of an anonymous donor, all proceeds will be going directly to the charity.
"Blue Day on the Coast" was presented to a friend of Cossington Smith at her 1932 David Jones Gallery exhibition. This will be the first time it has been sold.